Chief Jason Hepler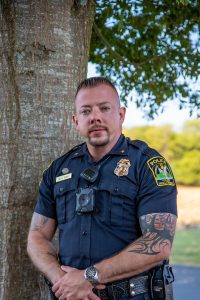 Hollywood Police Chief Jason Hepler was born and raised in Northwest Indiana. He moved to Alabama in 1999. He joined the US Marines in 2002 and served as a Landing Support Specialist and was transferred to battalion legal for Brigade Service Support Group-1, 1st Force Service Support Group. He helped develop the legal division for this unit in its infancy stage as BSSG-1 was a brand-new unit. He excelled and as a junior Marine was named the Battalion Legal Chief, a position normally reserved for a Senior Staff Non-Commissioned Officer.
Shortly after being honorably discharged from the Marines, he returned to Alabama and began his Bachelor's Program in Criminal Justice Administration, and began working at the Jackson County Jail, and as a reserve officer for the Hollywood Police Department. He reserved for nearly a year before being sent to the Northeast Alabama Law Enforcement Academy and becoming a full-time employee for the Hollywood Police Department.
On August 5th, 2010, he was named the Chief of Police of the Hollywood Police Department, and in 2022 He earned his 240-hour certificate in police management granting him certification through the state of Alabama as a Certified Law Enforcement Executive.
He has made every effort to make the Hollywood Police Department a progressive, proactive department. He has helped the Department secure equipment through various grants, implemented body cameras on officers, and started a K-9 Unit. He has hosted various programs at schools throughout Jackson County including anti-drug classes, K-9 demonstrations, anti-bullying and alcohol awareness classes. He takes his K-9 through many schools in the county in order to detect and detour drug activity in our schools.
He is proud to serve the people of Hollywood and to make a positive impact on the community and quality of life in Hollywood.
He is a member of:
Alabama Association of Chiefs of Police
International Association of Chiefs of Police
North American Police Work Dog Association (He is also the associate state coordinator for this organization.)
Education:
Bachelor of Science in Criminal Justice Administration (2009)
Master of Science in Industrial/organizational Psychology (2011)
Northeast Alabama Law Enforcement Academy (2008)
---
Captain Ryan Mccarver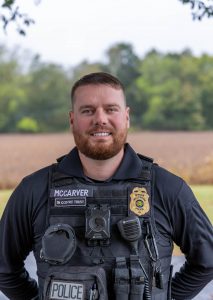 ---
Officer Travis Stephens